Code: 330MODENA
This newly designed broom is an outdoor broom that is suitable for individuals as a garden broom, useful for courtyards, parking lots and apartment buildings.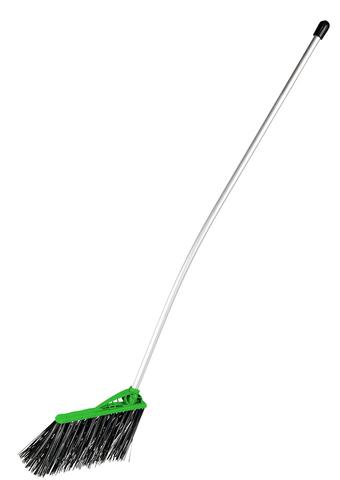 330 MODENA broom
Subscribe to the website to view price
To purchase our products you must be registered on the site. The prices reserved for you depend on your profile and the volume of purchases.
The garden broom of the MODENA series was born from the experience of Nuova F.lli Dondi in the professional broom sector to provide individuals with a light broom, but with considerably higher performance than the brooms on the market in large retailers.

The 330 MODENA garden broom consists of an aluminum handle and a base with an inclined attachment system into which the handle is inserted and a series of 20 cm long bristles. ca. of excellent plastic material suitable for outdoor brooms. Both the 2 pieces that make up it are interchangeable, so that you can order spare parts if the sweeping base is worn out without changing the handle as well.

The MODENA broom is the lightest yard, parking or garden broom in its category and is always ready.

The broom is fully washable and does not rust.
Tecnical details
HANDLE
: Code: 330MODENA-M - Diameter: 25 mm. - Length: 145 cm. - Weight: 300 gr. - Insulating sheath: NO
SWEEPER WITH ATTACHMENT
: Code: 330MODENA-S - Length: 33 cm. - Weight: 600 gr. - Bristle color: black - Bristle length: 20 cm. ca.
ATTENTION
: The MODENA broom is supplied with an accessory to hang it on the wall as soon as the work is finished. This precaution allows the sweeper bristles to be kept longer and more efficient, as they would crush if placed on the ground.