Code: DINAMIC 350B
Professional economic broom for small urban spaces equipped with adjustable attachment and 350 mm sweeper with BLUE bristles.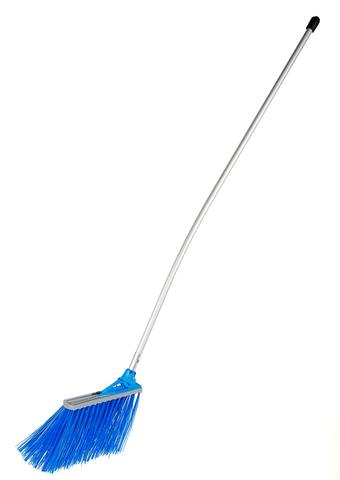 350B DINAMIC broom
Subscribe to the website to view price
To purchase our products you must be registered on the site. The prices reserved for you depend on your profile and the volume of purchases.
The DINAMIC 350B broom is an economical, semi-professional range broom equipped with a 25mm diameter handle, DINAMIC connection adjustable in inclination with progressive clicks to vary the angle of incidence between the hand and the ground.

The sweeping part is the smallest in the category with a base of 350 mm and 250 mm long bristles.

This is the cheapest tool of professional derivation chosen by small businesses such as petrol stations, service stations, campsites, sports or community centers.

The DINAMIC 350B professional broom is also perfect for apartment building cleaning agencies, professional gardeners, road construction and maintenance companies and bricklayers.

Once the sweeping part has been used up, given the sturdiness of the handle and the attachment, it is possible to order a longer sweeper (up to 10 cm more) so as to do more cleaning in a single pass.
Tecnical details
HANDLE
: Code: M25SG158 - Diameter: 25 mm. - Length: 158 cm. - Weight: 364 gr. - Insulating sheath: NO

COUPLING
: Code: DINAMIC - Type of mechanism: adjustable snap - Weight: 252 gr.

BROOMS
: Code: S34CD25 - Length: 34 cm. - Weight: 660 gr. - Bristle color: blue - Bristle length: 25 cm.