Code: MOVING T400
Professional broom at the top of the range. The best for ecological operators, garbage collectors, for cleaning streets and squares.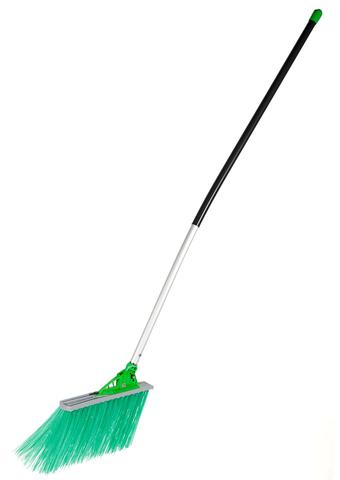 400V MOVING TOP broom
Subscribe to the website to view price
To purchase our products you must be registered on the site. The prices reserved for you depend on your profile and the volume of purchases.
We recommend this broom to anyone who uses this tool for several hours and needs to clean large common areas. The broom is versatile and interchangeable with the whole EXXIT SYSTEM with sled.

Also intended for public facility management and professional ecological operators, this broom for urban cleaning guarantees ample room for maneuver and great customization to find the most convenient and comfortable working position.

The GREEN bristles not extremely incisive are suitable for waste and leaves or more resistant. The consistency of the GREEN bristles keeps them efficient at any temperature and on abrasive surfaces.

Thanks to the MOVING coupling system that allows you to vary the angle of the handle with respect to the sweeping part at any time, the adjustment system allows you to adapt to the height of the operator who can benefit from greater comfort. The duration and effectiveness of the attack put this article at the top of the category.

NOTES: The correct method to reduce the angle between the handle and the sweeping part is to place a foot on the gray back of the broom and leverage the handle; vice versa, to increase the angle, place your foot on the front of the attachment and leverage the handle. The friction allows a continuous and fluid movement that allows you to always have the bristles parallel to the ground.
Tecnical details
HANDLE
: Code: M30CG158 / R - Diameter: 30 mm. - Length: 158 cm. - Weight: 590 gr. - Insulating sheath: YES
COUPLING
: Code: MOVING - Type of mechanism: adjustable with friction - Weight: 275 gr.
SWEEPING
: Code: S40OO25 - Length: 40 cm. - Weight: 676 gr. - Bristle color: green - Bristle length: 25 cm.