Code: SPRING-350V
Perfectly balanced, light and efficient professional broom with a 25 mm diameter handle and a 350 mm sweeper. The SPRING coupling system is cushioned and with a friction system allows you to very quickly change the angle of incidence of the handle with the ground while the internal spring cushions the operator's work.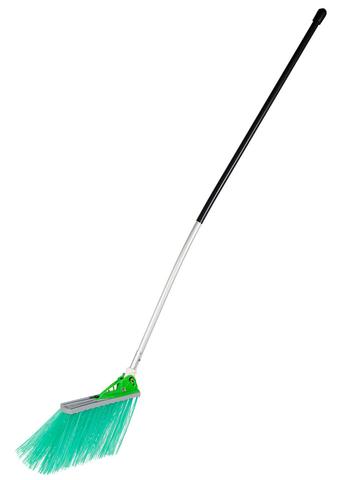 350V SPRING TOP broom
Subscribe to the website to view price
To purchase our products you must be registered on the site. The prices reserved for you depend on your profile and the volume of purchases.
This professional broom is the best synthesis of lightness, economy and effectiveness on the ground. We have chosen this handle/attack/sweeping configuration because all the operators in the sector who use this broom after trying others confirm that it is the most manageable and balanced in its category.

The SPRNG TOP 350V broom for urban areas is ideal for any outdoor activity for those who do not allow compromises and want the best that technology can offer.

The spring-loaded clutch SPRING attachment is unique in its kind, patented by Nuova F.lli Dondi, it is the only attachment on the market for professional brooms that allows the broom to move smoothly and returns only small stresses to the operator.

There is nothing like it on the market!
Tecnical details
HANDLE
: Code: M25CG158 - Diameter: 25 mm. - Length: 158 cm. - Weight: 475 gr. - Insulating sheath: NO
COUPLING
: Code: SPRING - Type of mechanism: adjustable with friction and sprung - Weight: 275 gr.

SWEEPING
: Code: S35OO25 - Length: 35 cm. - Weight: 650 gr. - Bristle color: green - Bristle length: 25 cm.